Hands-Free Water Hose Holding!
Our revolutionary SeCa Hose Holder™ lets you perform virtually any hands-free and hassle-free application or scenario you can imagine while using a water hose!
If you've ever wondered if there was a better way to use a water hose, then you have came to the right place!
We're Mark & Seth, the father and son inventors of the SeCa Hose Holder™ and we want to give you a helping hand whenever you need one the most!
Designed and crafted in Texas from high-quality American Steel, the SeCa Hose Holder™ will quickly become be your new favorite garden tool! We're confident you will love and enjoy the added convenience the SeCa Hose Holder™ will add to your life! 
Shop Now!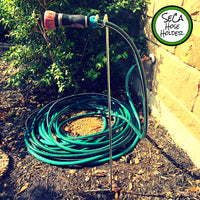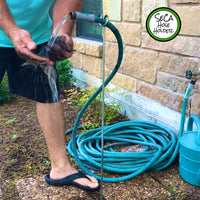 Helpful SeCa Hose Holder™ Uses!
The possibilities are endless! Here are some of our most helpful and time saving hands-free uses:
- Eliminates bending over to pick up the hose!
- Wash off dirty hands, feet, and tools without the worry of getting the water hose or faucet messy!
- Puts a "kink" in the hose to stop water and lets you complete another activity!
- Lets you deep water or shower specific areas!
- Elevate your favorite sprinkler head for an increased area of watering coverage!
- Helps fill up Watering Cans, Buckets, Troughs, Ponds...you name it!
Shop Now!
Features of The SeCa Hose Holder™
- 34" tall when placed into the ground
- Made from High-Quality Cold-Rolled American Steel 
- Options available in Zinc or Black Powder Coating
- Lightweight, yet durable at 21 Ounces
- Secures and fits all Light to Heavy Duty Garden Hoses
- Useful for everyone of all ages and abilities!
Shop Now!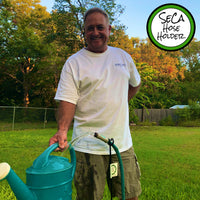 Testimonials
I love it for my regular hand held sprayer! I just hook it up and use it as a sprinkler. It's way more efficient and uses less water than a regular sprinkler!

Lisa of Canyon, TX
I love the heck out of it! I have a really bad back, and the SeCa Hose Holder keeps me from having to bend over and move a regular sprinkler. I also use it to hold the hose above flowerbeds instead of trampling them.

Andy of Wichita Falls, TX
My SeCa Hose Holder™ saves me enough time to drink two more beers  each night while watering the yard! (Update - It's now up to four!)

Allen of Pasadena, TX